"Members" and "Members in Good Standing"
When you are hired as an Academic Expert, Clinical Instructor, Lab Instructor, Marker or Tutor at Athabasca University, you are entering a unionized workplace, and become a member of the CUPE Local 3911. The terms of your contract were largely defined and laid out in successive Collective Agreements between CUPE 3911 and AU's Board of Governors in the years 1988 to present. The union had hard bargaining to make gains and benefits over the years, including wages rises (and their Step-wise upward progression), extended health, dental, and vision care and more.
You may also see on your payroll records that the University deducts union dues of 2.5% of eligible earnings from your pay. In addition to that deduction, however, you will also find on your paycheck an extra payment for 'vacation' pay, and, if you enrolled, AU contributions to your RRSP and TFSA retirement saving options. These contributions – and much more – exist because CUPE 3911 bargained, negotiated, and won them in previous Collective Agreements with AU.
CUPE 3911 is mainly run by volunteers. All of us (except the office administrator) are also part-time academics at AU. The members who step up to do the work of the union, for and on behalf of all CUPE 3911 members, do so after taking another small but formal step in their Membership, by applying to become "Members in Good Standing." This formality recognizes the solemn responsibilities involved in members empowered to help conduct the business of the union, including supporting members in grievances and health and safety matters.
At the same time, the union is a democratic body. And any member can apply to become a "Member in Good Standing." And doing so means you can attend General Membership Meetings, take part in the elections held each year, and become more active in the committees and volunteer work undertaken by the Local.
Take the extra step to become a "Member in Good Standing."
Read what CUPE National has to say about Members in Good Standing.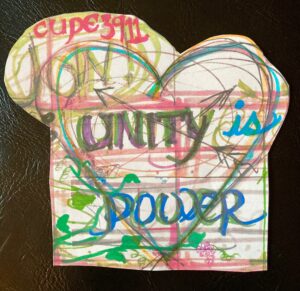 Not heard from us lately?
Be sure our communications reach you! At CUPE 3911, we don't always send out emails, but when we do, we like to send them to your non-AU address. If you are missing our emails, regular announcements of General Membership Meetings and AGMs, polls, and event notifications, then you might check your Clutter, Junk or Spam folders (search on cupe3911@gmail.com) and mark our address as "not spam."
Looking for an application to be a Member in Good Standing  of CUPE 3911? Link here