Regular Members and Members in Good Standing
When you are hired as a Tutor, Marker, Academic Expert, Clinical Instructor, or Lab Instructor at Athabasca University, you are employed under the CUPE 3911 Collective Agreement, with benefits and protections bargained by members of an active and dedicated union Local.
Union dues of 2.5% of eligible earnings and are deducted from your pay by the University. Those dues support the Local's offering of services, from student scholarships and awards to helping individual members with grievances and negotiating the terms of the Collective Agreement that significantly shapes the work lives of all part-time academics at AU.
Members who step to do the work of the union, do that work for and on behalf of all CUPE 3911 members.  If you want to get more directly involved in the committees and volunteer work undertaken by the Local, or to attend General Membership Meetings and take part in the democratic processes of the Local,  take the extra step to become a "Member in Good Standing," by a simple application process.
Read what CUPE National has to say about: 'Members in Good Standing'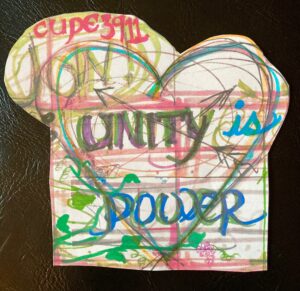 Not heard from us lately?
Be sure our communications reach you! At CUPE 3911, we don't always send out emails, but when we do, we like to send them to your non-AU address. If you are missing our emails, regular announcements of General Membership Meetings and AGMs, polls, and event notifications, then you might check your Clutter, Junk or Spam folders (search on cupe3911@gmail.com) and mark our address as "not spam."
Better yet, join as a Member in Good Standing in our 2022 Membership Drive. Apply to be a Member in Good Standing, and when you do, include your non-AU email address on the application form. Being in Good Standing means you have 'standing' to attend meetings, run for elected posts, and serve on the volunteer committees that carry out the Local's work. And our unity builds our power — at the Bargaining table and in the day to day work the Local does for members.
Link here to join today, and our emails will never go astray!